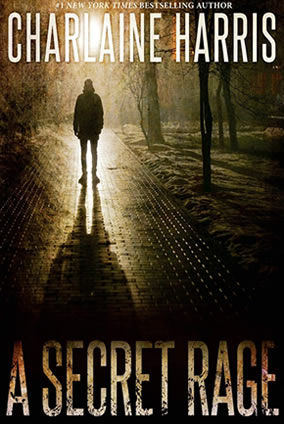 Dropped by her agent, New York City model Nickie Callahan decides to start over—moving back to the South to finish school at Houghton College in Knolls, Tennessee. But Knolls isn't the quiet town Nickie remembers from her youth. A rapist is targeting the women of Houghton, growing bolder and more vicious with each brutal attack, leaving the community gripped by fear.
When the violence affects Nickie personally, she moves from fear to fury—resolving to catch the rapist at any cost. After joining forces with another survivor, Nickie discovers that the attacks are not random—the rapist knows his victims. With that small clue, and an ironclad determination to stop him from striking again, Nickie begins the grim search for the relentless assailant hiding in plain sight.
A Secret Rage is a gripping thriller from Charlaine Harris, the #1 New York Times bestselling author of the Sookie Stackhouse novels, as well as the award-nominated Aurora Teagarden, Lily Bard, and Harper Connelly mysteries.
*Berkley, 2007, ISBN-10: 0425214532; ISBN-13: 978-0425214534 (M)
*Ballantine, 1985 ISBN-10: 0345321022; ISBN-13: 978-0345321022 (M)
*Houghton Mifflin, 1984 ISBN-10: 0395353238; ISBN-13: 978-0395353233 (H)
An engrossing Southern mystery from the NY Times best-selling author of the Sookie Stackhouse series – Six months after the death of her parents in a car crash, Catherine Linton returns to her hometown of Lowfield, Mississippi, unconvinced that it was an accident and looking for answers. Her suspicions seem to be confirmed when she stumbles upon the dead and beaten body of her doctor father's long-time nurse. Catherine is right: there are secrets being kept in Lowfield. But if she continues to investigate, the town where she grew up may be the same place where she is sent to her grave . . .
*Berkley, March 2007, ISBN-10: 0425214621; ISBN-13: 978-0425214626 (M)
*Ballentine 1985, ISBN-10: 0345321014; ISBN-13: 978-0345321015 (M)
*Houghton Mifflin, 1981, ISBN-10: 0395305322; ISBN-13: 978-0395305324 (H)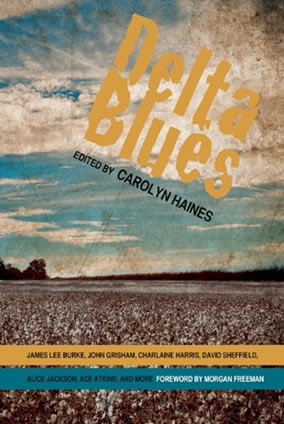 Anthology, contains the short story, "Crossroads Bargain"
A dollar donation for every book sold will be given to the Rock River Foundation, a charity dedicated to helping the arts and literacy in the Delta.
Contributing to the volume are Ace Atkins, Lynne Barrett, James Lee Burke, Suzann Ellingsworth, Beth Ann Fennelly, Bill Fitzhugh, Tom Franklin, John Grisham, Carolyn Haines, Charlaine Harris, Suzanne Hudson, Alice Jackson, Dean James, Toni L.P. Kelner, Michael Lister, Daniel Martine, Mary Saums, David Sheffield, Nathan Singer, and Les Standiford.
From the introduction by Morgan Freeman:
This collection of short fiction captures both the art of the tale and the power of the blues, and is a nod at the human condition that often inspires musicians to write and sing the blues. These stories tell about bad men and bad women who sometimes do good—or sometimes follow their true nature. Some of these characters know all about the dangers of making a bargain with the devil. And some know the power of redemption. These are characters who would not be out of place in a Honeyboy Edwards tune, and would be right at home alongside the desolate wail of Clarksdale, Mississippi, native Son House.
*Tyrus Books, May 1, 2010, ISBN-10: 193556207X; ISBN-13: 978-1-935-56207-8 (H)
*Tyrus Books, May 1, 2010, ISBN-10: 1935562061; ISBN-13: 978-1-935-56206-1 (T)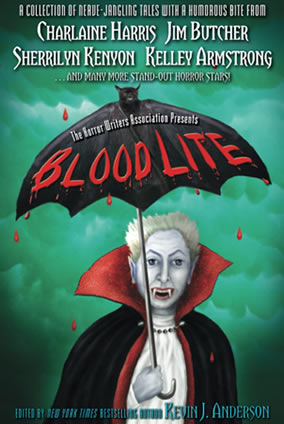 Anthology contains short story, "An Evening with Al Gore"
…a collection of entertaining tales that puts the fun back into dark fiction, with ironic twists and tongue-in-cheek wit to temper the jagged edge.
Charlaine Harris reveals the dark side of going green, when a quartet of die-hard environmentalists hosts a fundraiser with a gory twist in "An Evening with Al Gore"…In an all-new Dresden Files story from Jim Butcher, when it comes to tracking deadly paranormal doings, there's no such thing as a "Day Off" for the Chicago P.D.'s wizard detective, Harry Dresden…Sherrilyn Kenyon turns a cubicle-dwelling MBA with no life into a demon-fighting seraph with one hell of an afterlife in "Where Angels Fear to Tread"…Celebrity necromancer Jaime Vegas is headlining a sold-out séance tour, but behind the scenes, a disgruntled ghost has a bone to pick, in Kelley Armstrong's "The Ungrateful Dead." Plus tales guaranteed to get under your skin — in a good way — from
Janet Berliner Don D'Ammassa Nancy Holder Nancy KilpatrickJ. A. Konrath and F. Paul Wilson Joe R. Lansdale Will LudwigsenSharyn McCrumb Mark Onspaugh Mike Resnick Steven SavileD. L. Snell Eric James Stone Jeff Strand Lucien Soulban Matt Venne Christopher Welch
*Pocket, September 29, 2009, ISBN-10: 1439148406; ISBN-13: 978-1439148402 (M)
*Pocket, October 2008, ISBN 10: 1-416-56783-6; ISBN-13: 978-1-416-56783-7 (T)