Lily Bard Shakespeare Series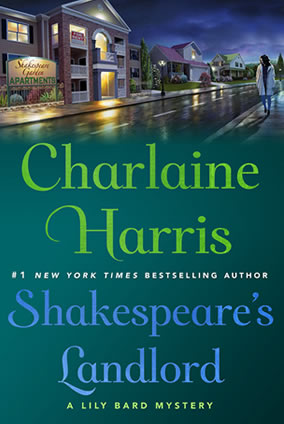 The Lily Bard Mysteries Book #1
#1 New York Times bestselling author Charlaine Harris's Shakespeare's Landlord is the first book in the Lily Bard mystery series.
Welcome to Shakespeare, Arkansas. Lily Bard came to the small town of Shakespeare to escape her dark and violent past. Other than the day-to-day workings of her cleaning and errand-running service, she pays little attention to the town around her. So when she spots a dead body being dumped in the town green, she's inclined to stay well away. But she was in the wrong place at the wrong time, and despite her best efforts, she's dragged into the murder case.
Lily doesn't care who did it, but when the police and local community start pointing fingers in her direction, she realizes that proving her innocence will depend on finding the real killer in quiet, secretive Shakespeare.
*Berkley 2005, ISBN 0-425-20686-6; ISBN-13: 978-0-4252-0686-7 (M)
*Dell 1997, ISBN-10: 0440614066; ISBN-13: 978-0440614067 (T)
*Dell, 1997, ISBN-10: 0440224187; ISBN-13: 978-0440224181 (M)
*St. Martin's Press 1996, ISBN-10: 0312144156; ISBN-13: 978-0312144159 (H)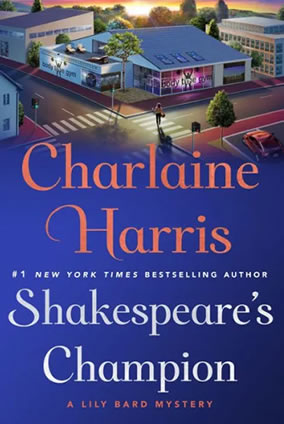 The Lily Bard Mysteries Book #2
Shakespeare, Arkansas, is a small Southern town with plenty of secrets, and Charlaine Harris's Lily Bard, fresh from her acclaimed debut in Shakespeare's Landlord, is just one more of its residents–albeit one harboring a few secrets of her own–with a desire to live quietly.
Lily keeps to herself, between her job as a cleaning woman for several townspeople and her visits to the gym, where she's a devotee of karate and bodybuilding. These two pursuits seem a bit odd for the petite Southern woman, but as work and play, they keep her focused and balanced.
When a fellow gym member is found dead after a workout with a barbell across his throat, Lily wants to believe it's an accident. But looking at the incident against the background of other recent events in Shakespeare, including a few incidents that appear to be racially motivated, she's afraid it could be a part of something much, much bigger–and more sinister…in Shakespeare's Champion.
*Berkley 2006, ISBN 0-425-21310-2; ISBN-13: 978-0-4252-1310-0 (M)
*Dell 1998, ISBN-10: 0440613523; ISBN-13: 978-0440613527 (M)
*St. Martin's Press, 1997, ISBN-10: 031217005X; ISBN-13: 978-0312170059 (H)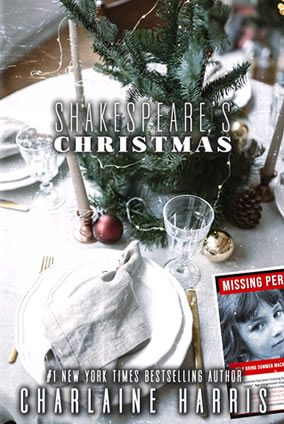 The Lily Bard Mysteries Book #3
From Charlaine Harris, the #1 New York Times and USA TODAY bestselling author behind HBO's hit series True Blood and NBC's Midnight, Texas, the third in a series that proves death never takes a holiday…
For Lily Bard, the idea of "going home for Christmas" summons nothing but dread. She wants to stay in her real home in Shakespeare, Arkansas, where her friendships are blooming, nobody dares mess with her, and her new private-eye boyfriend could make it a very cozy holiday indeed.
Back in Bartley, all people see when they look at Lily is a victim. But her sister is getting married, and Lily's determined to give her family what they want. She'll be present, be pleasant, and let her sister have the spotlight. Or so she thinks, until she discovers her boyfriend in town on a case, chasing a lead that could blow up the whole celebration.
One of the little girls in Bartley isn't who she thinks she is. And one of the town's respectable parents is a cold-blooded kidnapper ready to kill to hide their secrets. For her sister―and her sister's eight-year-old stepdaughter-to-be―Lily will find the truth. Even if it means she'll never go home again…
*Berkley 2008, ISBN-10: 042522497X; ISBN-13: 978-0425224977 (M)
*Dell, 2005, ISBN 0-440-23499-9; ISBN-13: 978-0440234999 (M)
*Dell 1999,  ISBN 0-440-23499-9; ISBN-13: 978-0440234999 (M)
*St. Martin's Press 1998, ISBN-10: 0312193300; ISBN-13: 978-031219330 (H)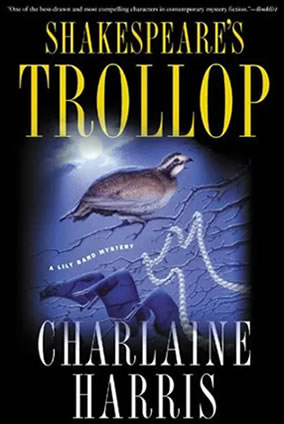 The Lily Bard Mysteries Book #4
Welcome back to Shakespeare – a charming Arkansas town with endless back roads, an eclectic mix of residents, and a dollop of noir. Featuring cleaning woman/karate expert Lily Bard, Charlaine Harris's series puts a unique spin on the traditional cozy to create mysteries that "work on every level. The writing and plotting are first rate [and] Lily is appealing in her own prickly way" —Washington Times
In the latest installment, Lily discovers lifelong Shakespeare resident Deedra Dean murdered inside a car parked in a woodsy area outside town. Determined not to get involved, Lily wants to leave the police work to Sheriff Marta Schuster and her team of deputies, and concentrate on cleaning, high kicks, and her boyfriend Jack's impending visit. But when Deedra's notoriously promiscuous lifestyle provides an extensive list of suspects but very few clues, Lily has no choice but to resume the roll of amateur detective and join the investigation.
In this fourth book in Charlaine Harris's highly acclaimed and darkly compelling series, Lily Bard delivers a hard-hitting mix of Southern charm and street smarts, a combination so alluring that long-time readers and newcomers will be dying to visit Shakespeare again.
*Berkley 2004, ISBN-10: 0-425-1969-9; ISBN-13: 978-0-4251-9699-1 (M)
*St. Martin's Minotaur 2000, ISBN-10: 0312262280; ISBN-13: 978-0312262280 (H)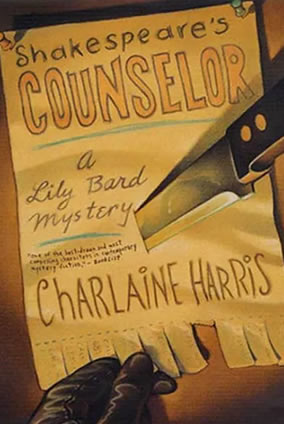 The Lily Bard Mysteries Book #5
Cleaning woman and karate expert Lily Bard is a woman with a complicated past. Trying her best to cope with her terrifying memories and horrible nightmares, she decides to join a weekly group therapy session in her hometown of Shakespeare, Arkansas. At first, Lily can hardly believe the number of her fellow Shakespeareans that share her life experiences.
As it turns out, the group members' feelings aren't the only things that need sorting out — they assemble for a session and find a woman dead, killed in bone-chilling fashion and deliberately left on display to send a twisted message. Who would commit such horrendous crime, and who is the intended recipient of the message?
Before long, Lily becomes embroiled in this disturbing murder and its aftermath, one in which the brutal killer's motives are entirely unclear. The truth is, the situation has dredged up more than a few of her own terrible secrets, and she may not be able to rest until she can untangle the who and why of this terrible crime. But can she accomplish this before the killer strikes again, and before her nightmares send her over the edge? Shakespeare's Counselor is the most complex and absorbing installment yet in Charlaine Harris's engaging, original, and more than slightly dark mystery series.
*Berkley 2005, ISBN-10: 0-425-20114-7; ISBN-13: 978-0-4252-0114-5 (M)
*St. Martin's Minotaur 2001, ISBN-10: 0312277628; ISBN-13: 978-0312277628 (H)
*St. Martin's Minotaur 2001, ISBN-10: 0312703406; ISBN-13: 978-0312703400 (T)